Gynae PCD Franchise Company in Sikkim– Novalab Gynae Care is the best Pharma company that deals in a variety of gynecology products at affordable prices in Sikkim. The demand for gynecology products in Sikkim is increasing rapidly, as there are a large number of women who are potentially fertile and may need gynecology medicines. Novalab Gynae Care is an ISO-certified pharma company that follows international quality standards to meet the customer's requirements effectively. We are a leading Gynae PCD Franchise Company in Sikkim, as we have a broad range of gynecology medicine that includes fertile medicines, hormone replacement therapy, menstrual cycle regulation, antibiotics, pain relievers, and much more.
Novalab Gynae Care is the first choice of many young pharma professionals in Sikkim, as they offer multiple benefits and support to them. The company has production facilities that are well equipped with the latest technologies and work by following the strict guidelines of GMP-WHO certifications. We are the best Gyane PCD Franchise company in Sikkim, as we offer our business opportunities in Gangtok, Namchi, Soreng, Mangan, Pakyong, and Geyzing. Being a legally certified gynecology pharmaceutical company, we never compromise the quality of the medicines, as QC and QA controls are implemented in the formulations of the medicines.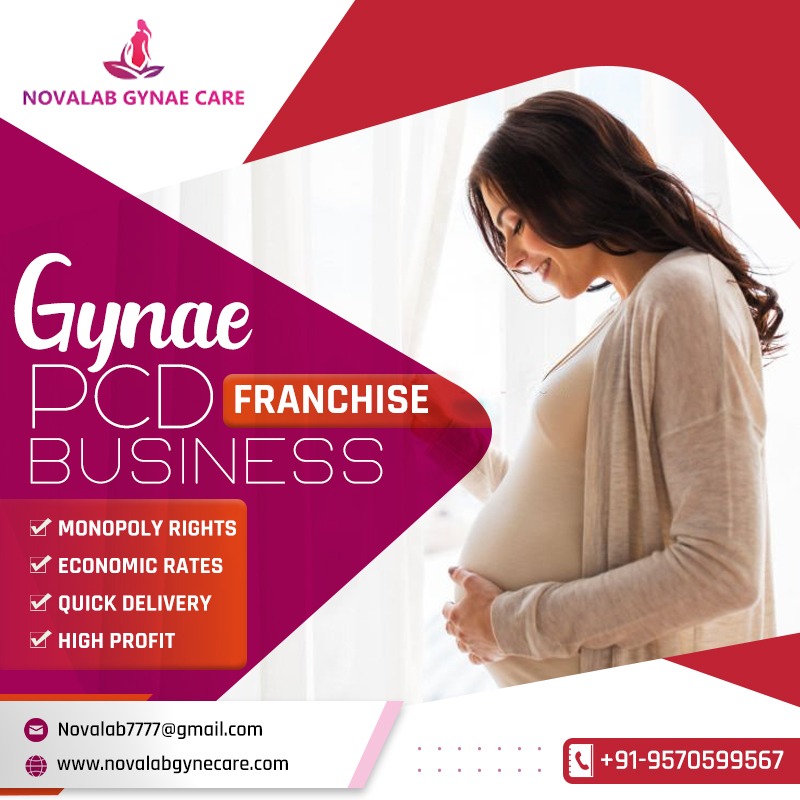 For more information, you can contact our marketing representative, who will provide you with a possible solution to all your queries. So call us at +91-9570599567 and email us at Novalab7777@gmail.com.
Novalab Gynae Care: The Best Gynae PCD Pharma Franchise Company in Sikkim
Novalab Gynae Care is the leading pharma company in Sikkim that is involved in manufacturing, marketing, and supplying the best quality gynecology products at affordable prices. The company is offering the best PCD Pharma franchise opportunity to pharma people who want to start their own pharma business in Sikkim with affordable investment plans. Being an ISO-certified pharma company, we have many happy customers who are enjoying our products and services at their locations. At our manufacturing units, we strictly follow the GMP-WHO guidelines for quality drug formulations. From the production to the packaging of gynecology medicines, we take special care of the quality. Here are some amazing features of the company:
The company has a broad range of gynecological products at reasonable prices
The production units are certified with the GMP-WHO certifications
Our medicines are approved by the DCGI certificate
We have a talented team of R&D and quality control experts.
We provide on-time delivery of the products
You will get 24/7 customer support from our end
Product packaging is attractive and contamination-free.
Start your Own PCD Pharma Franchise Business in Sikkim
Sikkim is the best location where you can start your gynecology PCD Pharma franchise, as there is a good demand for these medicines. We want to help all women in Sikkim who have gynecological problems, so we have made our medicines available all over the state. We are inviting pharmacists, distributors, entrepreneurs, medical representatives, and other business people to join our franchise program and sell our gynecological products. Here are the locations to start your PCD Pharma franchise business in Sikkim:
Gangtok
Namchi
Soreng
Mangan
Pakyong
Geyzing
Different ranges of Gynecology medicines
In Sikkim, we are committed to providing the best quality gynecology medicines for the PCD Pharma franchise business. Quality is a major aspect of our company, so we provide DCGI-approved drug formulations at affordable prices. We have a wide range of gynecological products available in the form of tablets, capsules, vaginal gel, intimate wash, nutraceuticals, pain relief oils, protein powder, and much more. Our company is dedicated to introducing up-to-date gynae products with the help of a research and development team. Here is a list of the gynecology medicines we offer:
Tablets
Aceclofenac and Drotaverine Hydrochloride Tablets
Albendazole and Ivermectin Tablets
Azithromycin, Fluconazole, and Secnidazole Tablet
Camylofin Dihydrochloride and Paracetamol Tablets
Ciprofloxacin and Tinidazole Tablets
Syrup
Ayurvedic Liver Formulations Syrup
Carbonyl Iron, Zinc Sulfate, VitaminB12 B12, and Folic Acid Syrup
Ferrous Ascorbate and Folic Acid Suspension
Ferrous Ascorbate and Folic Acid Syrup
Lycopene with Multivitamin and multimineral Syrup
Injections
Diclofenac Injection
Hydroxyprogestron Caproate 250mg Injection
Iron Sucrose 100mg Injection
Micronized Natural Progesterone 100mg Injection
Tranexamic Acid Injection
Benefits of Associating with Novalab Gyne Care in Sikkim
Novalab Gynae Care is a pharmaceutical company that makes life-saving medicines for women. We are now in Sikkim to help women there stay healthy. We offer high-quality gynecological products and franchise opportunities to pharmacists who want to grow their careers. Here are the benefits that the company offers its franchise associates in Sikkim:
specialized Monopoly Rights
Accurate Designing, Labeling, and Packaging of Products
Appeasing Business Deals
On Schedule Shipping of Goods
Cost-Effective Prices of Medicines
Best ROI Strategies