Gynae PCD Pharma Franchise in Telangana: The leading Gynae pharmaceutical franchise company that works with the production and marketing of pharmaceutical formulations is Novalab Gynaecare. We are certified with ISO, WHO, and GMP certifications that offers high-quality medicines across the nation. Our business offers a wide variety of products at competitive costs and excellent quality. The ideal option for you to launch your own business by partnering with the best pharmaceutical company is through Novalab Gynae PCD Pharma Franchise in Telangana covering Hyderabad, Warangal, Nizamabad, Karimnagar, Ramagundam, Khammam, Mahbubnagar, Nalgonda, Adilabad, Siddipet etc.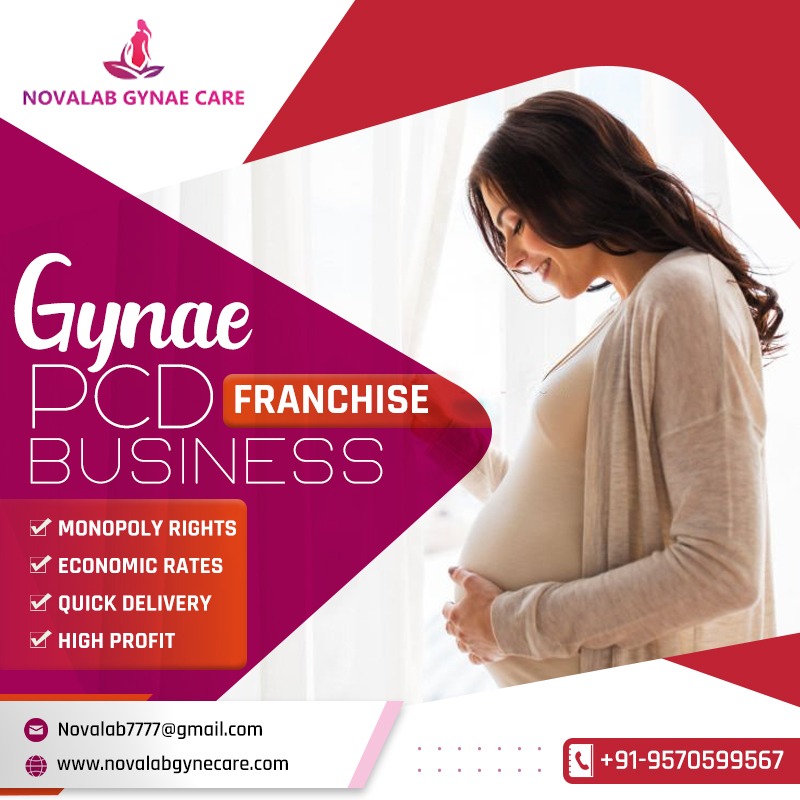 The Gynae pharmaceutical franchise industry is flourishing throughout the nation. As a result, this industry is expanding significantly to satisfy women's demand. We warmly invite pharmaceutical industry professionals, distributors, and medical representatives from all around Telangana to work with us. For individuals wishing to launch their own business in this sector, our Gynae Pharma Franchise in Telangana is a fantastic business opportunity.

Increasing Demand for Gynae Products in Telangana
The state's rising population, improved healthcare access, and changing societal attitudes toward women's well-being have fueled this demand. Additionally, educational initiatives and healthcare campaigns have heightened awareness about the importance of gynecological care, leading to more women seeking products for menstrual health, pregnancy care, and general gynecological needs. As a result, manufacturers and retailers have witnessed a surge in demand for these specialized products to cater to the evolving healthcare needs of women in Telangana.
High demand: India's vast population and rising concern for people's health and well-being contribute to the high demand for pharmaceutical items there.
Low initial outlay: Starting a pharma franchise business involves a relatively low initial outlay when compared to starting a pharmaceutical manufacturing facility.
The pharmaceutical industry frequently has significant profit margins, which makes it a desirable career choice for professionals.
Flexibility: A pharma franchise business allows employees to work according to their schedules, giving them more freedom over their working hours and pursuit of a work-life balance.
100% Quality Assured Pharmaceutical Formulation Offered by Novalab Gynaecare
Novalab Gynaecare ensures 100% quality in the pharmaceutical formulations for gynecological healthcare. Backed by a robust distribution network, our products meet the highest industry standards. From menstrual health to pregnancy care, Novalab Gynaecare offers a wide range of meticulously developed pharmaceutical formulations. Our strong distribution network ensures efficient and timely delivery, reaching healthcare providers and consumers across Telangana. With a focus on women's well-being and health. Novalab Gynaecare strives to enhance accessibility and affordability, making a significant impact on the gynecological healthcare landscape in the region.
Tablets
Syrups
Injectables
Mix Products
Cardiac Diabetic Care
Benefits offered by Novalab Gyane Care
Novalab Gynaecare presents a myriad of benefits and advantages. Firstly, their formulations guarantee optimum efficacy and safety, ensuring superior healthcare for women. The company emphasizes research-driven innovation, resulting in advanced pharmaceutical solutions catering to various gynecological needs. With a strong focus on quality assurance, Novalab Gynaecare adheres to stringent industry standards. Their expansive distribution network ensures widespread accessibility to these high-quality products, benefiting a broader demographic. Moreover, the brand's dedication to affordability and customer satisfaction underscores its commitment to improving women's health, making a notable contribution to the gynecological healthcare landscape.
Vacant Location where we are extending our Reach for Pharma Entrepreneurs
Novalab Gyane Care is the leading Gyane PCD franchise company in Telangana. The company offers the great opportunity to start their own gynae franchise business in your desired location in telangana. We offer quality medicines in all the districts of Telangana including:
| | | | | |
| --- | --- | --- | --- | --- |
| Medak | Adilabd | Nizamabad | Rangareddy | Nagarkurnool |
| Jagtial | Suryapet | Vikarabad | Sangareddy | Mahabubnagar |
| Mulug | Khammam | Peddappalli | Karimnagar | Rajanna Sircilla |
| Nirmal | Nalgonda | Kamaraddy | Wanaparthy | Jogulamba Gadwal |
| Siddipet | Warangal | Mancherial | Hanumakonda | Medchal-Malkajgiri |
| Jangoan | Hyderabad | Narayanpet | Mahububabad | Yadadri Bhuvanagiri |
Why Chose Novalab Gynae Care?
Choosing Novalab Gynaecare is a prudent decision due to their unwavering commitment to women's health. Their gynecological pharmaceutical formulations epitomize cutting-edge research, ensuring optimal efficacy and safety. With a strong focus on quality and adherence to industry standards, each product is meticulously crafted to address diverse gynecological needs. Additionally, Novalab Gynaecare's expansive distribution network ensures widespread accessibility, making their high-quality solutions available to a broader audience. Emphasizing affordability and customer satisfaction, the brand not only prioritizes women's well-being but also contributes significantly to enhancing the overall landscape of gynecological healthcare.
Promotional tools by Novalab Gyane Care
Knowledge and Direction: Our knowledge of gynecological drugs is available to franchise partners. To ensure each franchisee's success, we offer direction, training, and marketing assistance.
Established Reputation: The credibility of our franchise partners is boosted by our track record for providing high-quality healthcare items.
Customer loyalty is a result of our product's ability to gain the confidence of patients and healthcare professionals through our focus on quality and dependability.
Innovation: To keep up with the most recent developments in medical science, we continuously innovate our line of gynecological products.